COSMETIC CLINIC AT ALLCARE INALA
At I-Skin we focus on your skin solution.
We customise our treatments to target your skin needs and concerns using our advanced machinery and products. Treating acne, pigmentation, rosacea and improving your skin's texture, health and quality are just some of the many things we can offer you.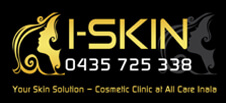 At I-Skin we offer numerous laser treatments which can be used for permanent hair reduction, tattoo removal, reducing appearance of acne scarring, hypertrophic scars and keloid scars, as well as reduction of vascular lesions (such as leg veins).
We also offer non-surgical treatments such as anti-wrinkle therapy (using botulinum toxin A), anti-ageing treatments (such as fillers), and non-surgical facelifts using treading techniques for a youthful look.
For surgical treatments, we have a visiting cosmetic surgeon that offers double eyelid, nose enhancements or nose reduction, liposuction and breast lifting enhancements whilst maintaining a natural looking result.
We are located with in Allcare Inala Medical Centre